---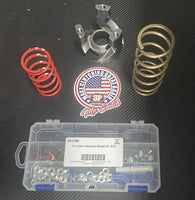 Exclusive 3P clutch kit for the new P90X Ranger 1000 clutch systems!  

We change the internal components of your stock clutches to maximize performance in whatever application you have.  You just tell use your riding style, modifications and we set up your custom package.


Unmatched low end torque (belt grip)
Low rpm engagement at 14-1500rpm
Instant throttle response
better backshifting during load changes
We have our kits in race applications from the Baja 1000, Best in the Desert, Southern Rock Racing, TORN, LACC, CMR Mud Racing, etc along with countless trail applications.  It doesn't matter what size tires or terrain, we will match your kit to fit your needs.

It's all about calibrating for the application!! 



Includes adjustable flyweights, primary spring and secondary spring*