---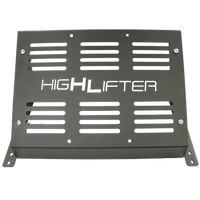 Fitment:
2011 Yamaha Grizzly 700 4x4
2011 Yamaha Grizzly 550 4x4
2010 Yamaha Grizzly 700 4x4
2009 Yamaha Grizzly 700 4x4
2009 Yamaha Grizzly 550 4x4
2008 Yamaha Grizzly 700 4x4
2007 Yamaha Grizzly 700 4x4
2012 Yamaha Grizzly 700 4x4
2012 Yamaha Grizzly 550 4x4
2013 Yamaha Grizzly 700 4x4
2013 Yamaha Grizzly 550 4x4
2014 Yamaha Grizzly 700 4x4 EPS
2014 Yamaha Grizzly 700 4x4
2014 Yamaha Grizzly 550 4x4 EPS
2014 Yamaha Grizzly 550 4x4
2015 Yamaha Grizzly 700 4x4
2015 Yamaha Grizzly 700 4x4 EPS
SKU:  

RK-FR-Y700

Category: 

Radiator Relocation Kits

Brand: 

High Lifter

Summary: 

Don?t be the guy who kills the ride by constantly overheating. High Lifter?s Radiator Relocation Kit ensures your ATV is mud-ready all the time without having the need to constantly be stopping to cool off your engine from a clogged radiator.

Weight: 

17.31

Length: 

22

Width: 

22

Height: 

6
Nothing kills a ride worse than mud in the radiator. You're ATV is not quite broke, but it isn't running either. You and your buddies have to keep stopping over and over for you to cool off. Keep your radiator clean and your engine cool with High Lifter's Signature Radiator Relocation Kit designed especially for riders who love those deep mud holes.
The High Lifter research and design team know that stock radiators were engineered to perform in a wide range of harsh conditions and terrains. The only condition manufacturers didn't design for was mud totally stopping up the cooling fins. By relocating the radiator to the front rack, you can keep it free of mud and easily access the radiator for cleaning and rinsing.
Our heavy-duty relocation kits are mounted between 40-50 degrees (depending on the make and model) to deflect debris. The shrouds and mounting rack are made of 12-gauge steel and powder-coated in wrinkle black to look good on any ATV. The precision-cut High Lifter logo on the shroud makes your ATV stand out in any crowd. If you already have snorkels, some rerouting may need to be done, but if you don't already have snorkels there is still plenty of room on the front rack to locate them in a variety of combinations.
This kit provides easy access to the radiator cap so you can maintain fluid levels with minimum hassle.
Features:
· Heavy-duty 12-gauge steel.
· Wrinkle black powder coat finish.
· Kits include additional hose, mounting brackets, and all hardware.
· Keeps radiator out of the mud.
· Keeps the motor cool.
· Makes cleaning and maintenance easier.
· User-friendly installation instructions.
· Complete kit with no additional hardware required.
NOTE: This kit will not fit 2014 Grizzly 550/700 due to front rack changes.
**Please refer to "Fits" tab for applications**