---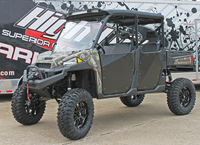 Fitment:
2019 Polaris Ranger 900 XP
2019 Polaris Ranger 900 Crew
SKU:  

PLK-DXL-RNG9-3-B

Category: 

Big Lift Kits

Brand: 

High Lifter

Summary: 

Take your lift to the extreme with the High Lifter 6" Big Lift Kit for the Polaris Ranger 900 High Lifter Edition! This all inclusive kit provides everything you need to clear tires up to 34.5" and conquer the gnarliest mud holes around. This kit comes powder-coated in black or orange.Kits are available raw or in custom colors. Allow up to 5 days for powder-coating. Pro Staff discount is NOT available on this item.

Weight: 

210

Length: 

48

Width: 

40

Height: 

40
Bigger. Badder. BOLDER. Take your Ranger to the edge with High Lifter's 6" Big Lift Kit. Increase your ground clearance and make room for larger tires to dig deep and ride hard in most any terrain. Our engineers and staff have spent over 20 years perfecting the ultimate ATV lift kit. The product? The Big Lift Kit is even easier to install with a bolt-on application that consistently measures truer over competitor products.
One of the first areas our team tackled was the steering. Large lifts are known for being difficult to steer. Our solution was superior engineering of steering components and hub location geometry that that provides excellent steering and maneuverability on the trails.

The kit provides a true 6"+ of lift with the front Max Clearance Control Arms featuring a 2" forward sweep for increased tire clearance and wheelbase. The rear Max Clearance Control Arms feature a 3" rearward rake for increased tire clearance and wheelbase. Depending on your shock preload adjustment, additional life can be gained.

Each lift kit comes with four Outlaw DHT XL axles that are custom tuned for use with the 6" High Lifter Lift Kit.
Outlaw DHT XL Axle:
Dual heat treatments on the housings to improve toughness against shock loads without compromising bearing surfaces and long term life
Oversized CV joint housings to increase strength
Housings and bars made from 4340 Chromoly steel
Puncture-resistant boots which are durable in high and low temperature climates
Molybdenum disulfide, anti-oxidation, rustproof, and high-performance
This 6" lift kit package includes the following components:
Heavy duty laser cut front and rear upper lift/shock relocation brackets
Eight custom heavy duty Max Clearance Control Arms crafted from 1 1/4"x.120 wall DOM tubing, heavy duty support gussets, and shock mounts
Four Outlaw DHT XL Axles
Custom tie rods with heim-style rod ends
Custom rear brake line kit
All required hardware
Detailed instructions with step-by-step photos
Tire Fitment: 
Up to 34.5 OL2
Up to 35" OL3
Our stated tire fitment guide is a general fitment and is in no way guaranteed. Tires and lifts vary by manufacture and tire fitment can be affected by other modifications. Always verify your brand of tires, lift, and other modifications prior to making a buying decision.