---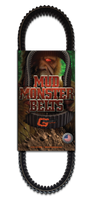 Fitment : Polaris
2016-2020 RZR XP Turbo All Models
2018-2020 1000 Ranger XP w/ P90X clutch (New Body Style)
2019-2020 1000 Ranger XP Crew w/ P90X clutch (New Body Style)
2018-2020 RS1
Replaces OEM# 3211202 / 3211186
Mud Monster Belt Line
Higher strength compared to OEM and aftermarket drive belts.
Mud Monster belts have been developed with the 2nd

 

Generation compound called DUMAX2 for added strength, flexibility, and heat resistance.
You can squeeze this belt a lot harder for more tuning possibilities and less slippage.
Maximum under-cord stiffness allows the belt to flex for rotational efficiency and running cooler temperatures
Built thicker when possible for more belt to sheave adhesion.
Built for extreme abuse, and excessive shock load.
Handles higher temps than OEM
Built with Aramid fiber cord to eliminate stretching like a Polyester cord.
Made in the USA!
This belt is built specifically for the straight mud rider that needs a ton of belt squeeze to stop from slipping the belt. The specific compounds in this belt make it instantly grab when the clutching and tune are correct. Note: This blend of compounds and thickness will build more heat at higher speeds, so we recommend keeping it under 35mph