---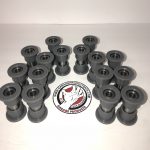 Fits all years & models except X3.
Garage Products Ultralife design bushings will replace your stock bushings on your Can Am Maverick. Greatly improved materials and much tighter fits allow these to outlive stock bushings by thousands of miles.  All Garage Products bushings include a lifetime warranty!
 All pivot sleeves are Hard Nickel Plated to eliminate wear and corrosion. These are the most advanced bushing sets we have ever created. Of course they are backed by our lifetime guarantee.
IF YOU ARE USING AFTER MARKET A-ARMS WE MUST BE INFORMED PRIOR TO ORDERING!! 
Adjusting arm bushings found on the REAR of certain Maverick models. (not included with the complete set) Kit does both ends . Only 1 kit required .
These do not replace Heim type fittings . Only models with an a-arm type bushing