---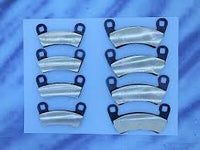 Part No: POL-R-1000-HD
Full set heavy duty Brass Brake Pads. For 2017-2018 Polaris Ranger  1000xp. CREW CAB MODELS ONLY
These brake pads are intended for off road mud and water riding.           
Built from high quality solid brass slug, bonded, and fastened to a heavy steel plate.    
Warrantied against manufacturing defect only. No wear warranty          
NOT recommended for prolonged dry or high speed stopping.     
NOT recommeneded for sustained down hill stopping.       
FOR OFFROAD USE ONLY.